Foot Care/Pedicure
All foot care is provided in our private beauty rooms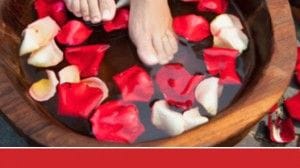 Incredible feet treatments.
We discard all files used on any client.
Choose the pedicure you want. No polish? That's ok we'll high shine your toenails instead or extend your foot/leg massage. Tickly feet? Okay we'll massage firmer. Tell us what you want and we'll make it a truly wonderful experience for you.
Are you looking for something to fix smelly feet? Do you suffer from hard calluses that no matter how much you rub won't get your soles smooth? We can either provide you with an In Salon treatment or you can DIY and buy a Pedi Peel take-home treatment - cheaper and often safer than buying on the net. It really does work and it's safe too, though not for diabetics or pregnant ladies.
What do you want done?
Remove rough, dead skin from the heels and soles and around your toes.
Cut, file and smooth your nails.
Firm but gentle massage to ease pain and tension and help you walk better
Detoxifying masks to refine and deep cleanse your feet, inhibit bacterial growth and remove odour.
Paraffin wraps or Mint Masks to help soothe away pain and deeply moisturize your dry skin